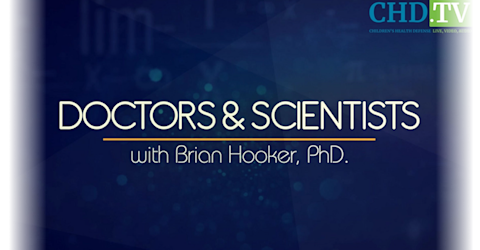 live every at •
Doctors and Scientists with Brian Hooker Ph.D.
Got Science? Are you sure?
Dr. Brian Hooker invites some of the leading voices in science and medicine to break down the studies and weigh in on the controversies so the rest of us have an opportunity to understand the science that drives public health policy and medical progress.
Hosts: Brian Hooker, Ph.D., P.E.
*The opinions expressed by the hosts and guests in this show are not necessarily the views of Children's Health Defense.
Sarah Steadman, Whistleblower and Healthcare Worker, Exposes the Industry
Host Brian Hooker, Ph.D., is joined by Sarah Steadman, whistleblower and healthcare worker, for this jaw-dropping episode of 'Doctors & Scientists.' Listen as Sarah describes how medical staff ignored her daughter's massive hemorrhaging after exposure to her recently-vaccinated father. Breaking down the strenuous journey step-by-step, this caring mother shares the vital importance of understanding and looking into the effects of the COVID vaccines — on both the vaccinated and unvaccinated. Hear her struggles and gain perspective in this week's episode.