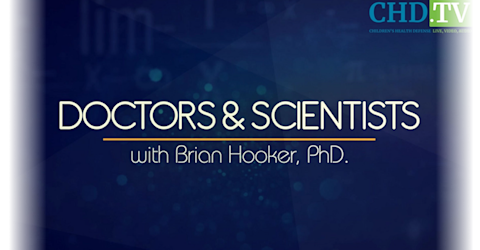 live every at •
Doctors and Scientists with Brian Hooker Ph.D.
Got Science? Are you sure?
Dr. Brian Hooker invites some of the leading voices in science and medicine to break down the studies and weigh in on the controversies so the rest of us have an opportunity to understand the science that drives public health policy and medical progress.
Hosts: Brian Hooker, Ph.D., P.E.
*The opinions expressed by the hosts and guests in this show are not necessarily the views of Children's Health Defense.
Patient Betrayal: Corruption of Healthcare, Informed Consent + Physician-Patient Relationship
James A. Thorpe, M.D., recognizes the complexity and importance of women's reproductive organs and health. That's why he has set out on a journey of exposing the infertility crisis taking place and the toxins behind the influx of miscarriages, menstrual abnormalities and more. In this week's 'Doctors & Scientists,' Dr. Thorpe shares critical research data and the tremendous impact that vaccines and other modern medicine have on the ability for couples to conceive.