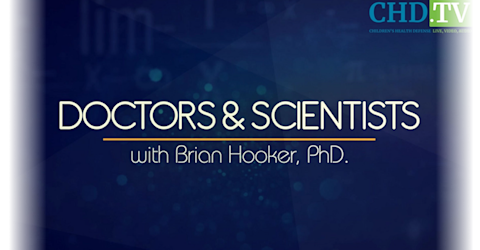 live every at •
Doctors and Scientists with Brian Hooker Ph.D.
Got Science? Are you sure?
Dr. Brian Hooker invites some of the leading voices in science and medicine to break down the studies and weigh in on the controversies so the rest of us have an opportunity to understand the science that drives public health policy and medical progress.
Hosts: Brian Hooker, Ph.D., P.E.
*The opinions expressed by the hosts and guests in this show are not necessarily the views of Children's Health Defense.
'It Could Not Have Worked, and They Knew It' — The Fundamental Flaw of the COVID Vaccine Strategy with Dr. Mike Yeadon
Dr. Mike Yeadon is today's guest on 'Doctors & Scientists,' bringing his years of experience in medical and pharmaceutical industries to share the truth about COVID and other strange events that point towards tyranny, global control and depopulation. Dr. Yeadon discusses the mRNA injection design, COVID susceptibility in relationship with vaccine risk and toxicology of reproductive and neurological and other organs of the human body.