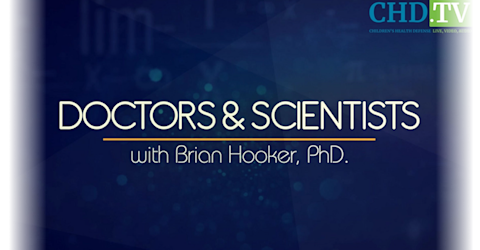 live every at •
Doctors and Scientists with Brian Hooker Ph.D.
Got Science? Are you sure?
Dr. Brian Hooker invites some of the leading voices in science and medicine to break down the studies and weigh in on the controversies so the rest of us have an opportunity to understand the science that drives public health policy and medical progress.
Hosts: Brian Hooker, Ph.D., P.E.
*The opinions expressed by the hosts and guests in this show are not necessarily the views of Children's Health Defense.
Dr. Nancy Tarlow Lays Groundwork for a New Recurring Special to Explore Vaccines, Vaccine Components + Their Dangers – Part 1
This episode of 'Doctors & Scientists' will leave viewers speechless. Guest Dr. Nancy Tarlow and host Dr. Brian Hooker have an in-depth conversation on vaccines as well as the programs and the studies behind them. Are childhood shots safe and effective? Are COVID injections really working as the CDC, FDA said they would? Tune in to hear the important questions being asked and the critical data that answers them.