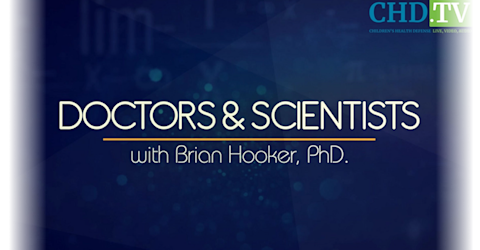 live every Thu at •
Doctors and Scientists with Brian Hooker Ph.D.
Got Science? Are you sure?
Dr. Brian Hooker invites some of the leading voices in science and medicine to break down the studies and weigh in on the controversies so the rest of us have an opportunity to understand the science that drives public health policy and medical progress.
Hosts: Brian Hooker, Ph.D., P.E.
*The opinions expressed by the hosts and guests in this show are not necessarily the views of Children's Health Defense.
Today, on 'Doctors & Scientists,' Brian Hooker, Ph.D. welcomes guest Steven Petrosino, Ph.D. to the show for a conversation on his career and journey of discovering the deep-seeded corruption in major organizations and agencies. Learn how Dr. Petrosino was pressured to get tested and vaccinated, despite his accommodation for health concerns, which ultimately led to his moving on to work for Children's Health Defense. Watch the interview on CHD.TV!
FLCCC doctor, Pierre Kory, M.D. joins host of 'Doctors & Scientists,' Brian Hooker, Ph.D. to acknowledge his journey of discovery about how vaccination is 'built on myth' and that our children face a 'factory of vaccinations.' He shares his perspective on health insurance claims and excess death rates, injury recovery protocols and his work with the FLCCC. Be sure to watch!
What happens when a doctor is sued billions of dollars for encouraging alternative treatment? Eric Nepute, D.C. and Brian Hooker, Ph.D. have a conversation about this dangerous precedent for the medical profession and why pushing back against the mainstream narrative matters. And what about the risk-benefit analysis of vitamins? For this and more, tune in to 'Doctors & Scientists' on CHD.TV!