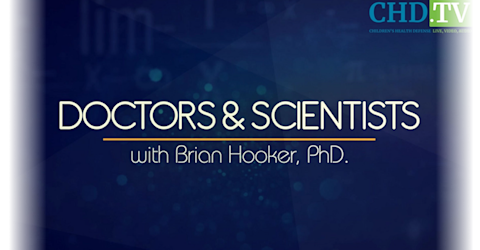 live every Thu at •
Doctors and Scientists with Brian Hooker Ph.D.
Got Science? Are you sure?
Dr. Brian Hooker invites some of the leading voices in science and medicine to break down the studies and weigh in on the controversies so the rest of us have an opportunity to understand the science that drives public health policy and medical progress.
Hosts: Brian Hooker, Ph.D., P.E.
*The opinions expressed by the hosts and guests in this show are not necessarily the views of Children's Health Defense.
JB and Jamie Handley join host of 'Doctors & Scientists,' Dr. Brian Hooker, to share the impact that a certain autism therapy has had on their lives. Spelling-to-Communicate has gained popularity in the recent past. Why are families, the Handleys, being drawn to this technique for communication? How has the use of this therapy changed their relationships for the better? Tune in to find out.
Tugging on the long thread of biological warfare, Meryl Nass, M.D. weaves a true story of gain-of-function and personal discovery that will shock viewers to the core. In this episode, hear how pandemic preparedness and simulations threaten the very lives of individuals across the globe. This and more on CHD.TV's 'Doctors & Scientists.'
Mark Skidmore, Ph.D. shares details about a national survey on COVID vaccine impacts on 'Doctors & Scientists' this week. Hear the shocking findings of this study in this episode!
When it comes to the relationship between infant mortality rates and vaccination doses, what does the research show? Today's guest on 'Doctors & Scientists' has expertise in this area of study. He shares the jaw-dropping findings of his study and why this type of research matters.
Doctors Brian Hooker and Nancy Tarlow go deeper into the ongoing conversation about childhood vaccinations. Today, they discuss the clinical trials, reported adverse events and other important points about the MMR vaccine. Also, they share about Measles, Mumps and Rubella — their risk in terms of transmission, mortality rates and otherwise. Listen to their remarks in this 'Doctors & Scientists' episode!
Today, on 'Doctors & Scientists,' guest Yuri Gorby, Ph.D. shares his experience with Lyme Disease and how it opened new doors to understanding medicine and the neurobiological, physiological reactions of the body. He also shares shocking discoveries on the brain's cranial nerve regrowth. Don't miss this mind-blowing episode!
Tia Severino and Brian Hooker, Ph.D. talk solutions today, on 'Doctors & Scientists.' Tia shares her story of awakening to the egregious abuses in our world, her current perspective on the coordination and propaganda all around us and her hopes for the future. Join Dr. Hooker and his guest on CHD.TV to get inspired and involved in this ongoing fight for our freedoms!
Brian Hooker, Ph.D. and his guest, Dr. Tarlow look back in time to discuss vaccine injury in Dr. Hooker's own family, the making of the Vaxxed film and vaccine court. Then they take it back to the present day and how research on vaccination status and health outcomes continue to be silenced, the vaccine schedule continually grows and Big Pharma keeps getting more and more powerful. Don't miss this jaw-dropping conversation of 'Doctors & Scientists'!
Today, on 'Doctors & Scientists,' Brian Hooker, Ph.D. welcomes guest Steven Petrosino, Ph.D. to the show for a conversation on his career and journey of discovering the deep-seeded corruption in major organizations and agencies. Learn how Dr. Petrosino was pressured to get tested and vaccinated, despite his accommodation for health concerns, which ultimately led to his moving on to work for Children's Health Defense. Watch the interview on CHD.TV!
FLCCC doctor, Pierre Kory, M.D. joins host of 'Doctors & Scientists,' Brian Hooker, Ph.D. to acknowledge his journey of discovery about how vaccination is "built on myth" and that our children face a "factory of vaccinations." He shares his perspective on health insurance claims and excess death rates, injury recovery protocols and his work with the FLCCC. Be sure to watch!
What happens when a doctor is sued billions of dollars for encouraging alternative treatment? Eric Nepute, D.C. and Brian Hooker, Ph.D. have a conversation about this dangerous precedent for the medical profession and why pushing back against the mainstream narrative matters. And what about the risk-benefit analysis of vitamins? For this and more, tune in to 'Doctors & Scientists' on CHD.TV!
Dr. Nancy Tarlow and host of 'Doctors & Scientists,' Brian Hooker, Ph.D. deep dive into the immune system. They break down the science of the impact of different stressors on cortisol and how that transfers over to digestion, cancer susceptibility and increased risk of other infections. Dr. Tarlow also shares her input on simple habits that promote natural immunity and overall health, so be sure to tune in!