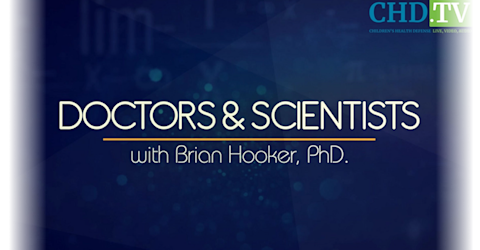 live every at •
Doctors and Scientists with Brian Hooker Ph.D.
Got Science? Are you sure?
Dr. Brian Hooker invites some of the leading voices in science and medicine to break down the studies and weigh in on the controversies so the rest of us have an opportunity to understand the science that drives public health policy and medical progress.
Hosts: Brian Hooker, Ph.D., P.E.
*The opinions expressed by the hosts and guests in this show are not necessarily the views of Children's Health Defense.
4-Foot-Long Blood Clots, Rare Cancers + COVID Vaccines With Ryan Cole, M.D.
Tune in to today's episode of 'Doctors & Scientists' to hear from guest Ryan Cole, M.D., on jaw-dropping COVID-19 vaccine research. Dr. Cole and others have found unusual and surprising numbers and types of cancer after the rollout of COVID-19 injections. Also, tune in to hear a breakdown of the critical science on "several foot-long … atypical clotting" as well as the high concern about reproductive toxicology.