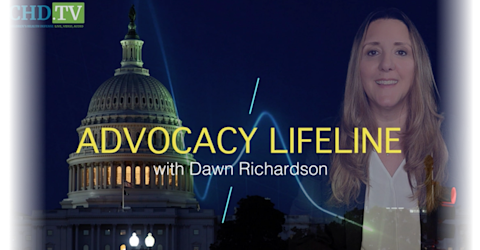 live every Tue at •
Advocacy Lifeline with Dawn Richardson
Laws are being considered and passed that have serious consequences for your health and freedom. Your voice has power, and 'Advocacy Lifeline' with Dawn Richardson will teach you how to use your voice efficiently and effectively to influence legislation and policies to protect your rights. Pharmaceutical and medical trade lobbyists often push for what benefits their industries' bottom line, not your health. Get empowered with up-to-date knowledge of actual bills moving, how the legislative process works and the simple skills and tools you can use to leverage your time to protect your freedom of choice. Education followed by action is the foundation of every episode.
*The opinions expressed by the hosts and guests in this show are not necessarily the views of Children's Health Defense.
An in-depth look at the legislative process and the role of constituents in advocating for or against bills with Dawn Richardson, host of 'Advocacy Lifeline.' In this episode, viewers are equipped with necessary tools to advocate to elected officials on the bills that matter. Don't miss it!
"If the federal government knows your vaccination status, they can control your behavior," says Dawn Richardson in this week's 'Advocacy Lifeline.' Watch this episode to hear legislation and advocacy for protecting individual rights within the sphere of medical freedom, from the state to federal levels.
Looking to the future, what needs to happen at the legislative level to ensure freedom to choose vaccination status? Dawn Richardson, host of 'Advocacy Lifeline,' takes viewers back in time to the first days of the CDC and how, over time, agency capture and overreach has become more of a concern. Dawn shares amendable bills by state in order to include vaccination status, going beyond COVID-19.
Dawn Richardson, host of 'Advocacy Lifeline,' shares the history of the HPV vaccination campaign, science related to cervical cancer and bills to watch out for. Viewers, don't miss this empowering episode!
With two freedom-fighting guests, Dawn Richardson talks legislative bills on 'Advocacy Lifeline.' Viewers, tune in to hear how to hold the line and advocate for medical rights!
Join Mo van Hoek and Dawn Richardson for an empowering and educational episode of 'Advocacy Lifeline'! Today, they share information about Florida legislation related to vaccines, as they pertain to passports, tracking, surveillance and mandates. Viewers won't want to miss this!
'Advocacy Lifeline' host, Dawn Richardson, shares tips for advocating in legislative committee hearings as well as updates on bills in seven states. Tune in to this episode for information on sharing your testimony, upcoming hearings and more.
Take a look at positive and negative legislative bills that concern minor consent for medical services in this week's episode of 'Advocacy Lifeline.' Host Dawn Richardson takes viewers through a short history of past legislation and provides talking points for advocacy before looking in-depth at bills from a number of states. Be sure to tune in!
How can we ensure that truthful information about exemption rates, state budgets and medical records are being received and sent to elected officials? It is the job of the citizen to become informed and educated by staying up-to-date with what is reliable in order to keep their representatives accountable. Join Dawn Richardson on 'Advocacy Lifeline' as she shares helpful, straightforward tips on exposing vaccination bias in our government!
Host Dawn Richardson and guest Dr. Ted Fogarty break down legislation that concerns administration of vaccines by pharmacy technicians. Why does this bill matter? What health and safety risks does it pose? They also speak to the use of hyperbaric oxygen, HBOT, in this episode of 'Advocacy Lifeline.' Don't miss it!
On 'Advocacy Lifeline,' this week, host Dawn Richardson analyzes various barriers to overcome in the vaccine debate. She also provides helpful advocacy opportunities, encouraging viewers to get involved in this critical threat. Learn about navigating reported adverse events, differences between vaccinated and unvaccinated populations, censorship issues and propaganda and much more on CHD.TV!