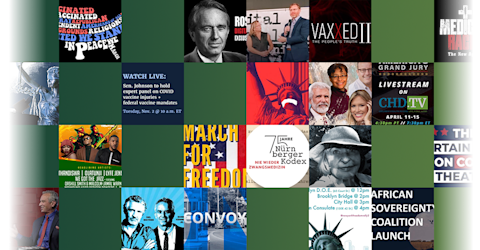 The Nuremberg Code: 75th Anniversary Commemoration — Full Livestream
On August 20, 2022, a compelling line-up of international speakers traveled to Nuremberg to commemorate the 75th Anniversary of The Nuremberg Code. In its jubilee year, this achievement of mankind faced the greatest hardship since it was written.
Nuremberg 75 Anniversary Event Program
(Scroll down to watch FULL STREAM)
00:05:33 Welcome 00:14:55 Dr. Walter Weber, Dr. Rolf Kron 00:22:00 Moment of silence for victims of the Holocaust 00:23:19 Dr. Sabine Helmbold, Moderator 00:29:30 Vera Sherav, Holocaust survivor / Founder, Alliance for Human Research Protection 01:20:00 Dr. Rolf Kron, Doctors Stand Up 01:44:00 Thank you to CHD, RFK, Jr. 01:45:28 Mary Holland, CHD President and General Counsel 01:59:00 Dr. Herve Seligmann, Israeli doctor 02:20:45 Staff from various medical associations Klinik Personal Steht Auf / Staffers Stand Up 02:20:50 Masha Orel, We for Humanity (Holocaust survivors and descendants) 02:59:52 Greek doctors in alliance with Nuremberg 75 and World Council for Health Dr. Ardis Christidis, Dr. Zafeiria Kakaletri, Dr. Argyrios Ntalianis, Dr. Dmitris Efthimiadis and others 03:06:28 Panel Discussion Dr. Uwe Alschner, Attorney Beate Bahner, Pastor Martin Michaelis, CHD President Mary Holland, Shabnam Palesa Mohamed (World Council for Health and CHD Africa), Dr. Tess Lawrie (World Council for Health), Vera Sherav (Alliance for Human Research Protection), Dr. Herve Seligmann 04:31:19 Shabnam Palesa Mohamed, CHD Africa Managing Director / Co-founder, World Council for Health, Africa Sovereignty Coalition 04:47:10 Dr. Maria Hubmer-Mogg, World Council for Health 04:52:27 Stefanie Bresnik, Rehabilitation Therapist 05:14:40 Dr. Tess Lawrie, Co-founder, World Council for Health 05:29:40 Pastor Martin Michaelis 05:56:15 Dr. Sonja Reitz, Professional Association for the Hippocratic Oath
*The opinions expressed by the hosts and guests in this show are not necessarily the views of Children's Health Defense.