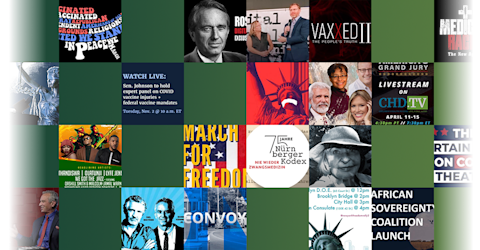 The Farm Bill: Threats + Opportunities — Alexis Baden-Mayer
Alexis Baden-Mayer is a lawyer who has worked since 2005 as the Political Director of the Organic Consumers Association, a network of more than 1 million activists committed to creating a healthy, just, democratic and regenerative food system. Alexis is a key organizer of some of OCA's most popular campaigns, including the 'Monsanto Makes Us Sick' campaign to ban Roundup. Alexis isn't afraid to put her body on the line to call attention to the crisis in our food system.
In 2014, the US Health Freedom Congress awarded Alexis a Health Freedom Award for direct actions she's taken that resulted in her arrest, including shutting down the National Organic Standards Board meeting to protest the weakening of organic standards and entering the White House grounds to deliver a petition to First Lady Michelle Obama in support of GMO labels, one of Barack Obama's unfulfilled campaign pledges. Alexis's proudest moment as an activist came in 2016 when Bernie Sanders tweeted a CSPAN video clip of her dumping 'Monsanto Money' on the Senate floor to protest the corrupting influence of money in politics. Prior to COVID, Alexis was focused on Farm Bill reform and advocating for a Green New Deal that recognized regenerative organic agriculture as an essential climate solution.
Since COVID, Alexis has been investigating the origins of SARS-CoV-2 in "gain-of-function research," a euphemism for genetically engineered bioweapons. She quickly learned that COVID wasn't the first Plandemic. Precursors include the West African Ebola crisis of 2014, the 2001 anthrax attacks on the U.S. Senate (traced by the FBI back to U.S. biological weapons labs at Fort Detrick), and the 1976 swine flu scamdemic, the first time a pharmaceutical company, Merck (which launched the U.S. biological weapons program under President Franklin Roosevelt) was granted liability protections for a vaccine.
Alexis is currently exposing the merging of the agribusiness, pharmaceutical and biological weapons industries evidenced by the merger of Bayer and Monsanto, as well as the recent purchase of Metabiota by Ginkgo Bioworks.
Alexis is the host of Good Vibes Healing with Dr. Henry Ealy and The New MDS: Mothers, Doctors & Scientists with Zen Honeycutt of Moms Across America, Dr. Michelle Perro and Dr. Stephanie Seneff. Alexis is a board member of the Virginia Chapter of Children's Health Defense and a volunteer with COVIDorigins.org and CHD affiliate Health Choice Maryland.