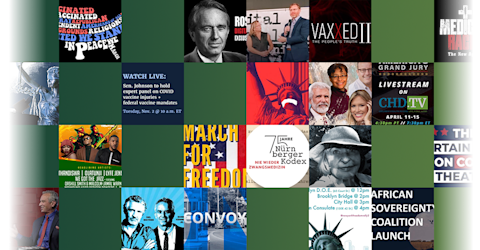 Seventy-fifth World Health Assembly Meetings
The theme of this year's Health Assembly is: Health for peace, peace for health.
The COVID-19 pandemic and other health emergencies with international reach have highlighted the leadership and coordinating role of WHO in responding to such events. Strengthening preparedness for and response to health emergencies are a key theme of the Health Assembly.
Events began with a high-level segment on May 22 with speeches from the elected health assembly president, heads of state, special guests, an address by the WHO Director-General and the presentation of the Director-General's Health Awards.
Daily Plenary Meetings
9 a.m. - 12 p.m., and 2:30 - 5:30 p.m. CEST
→ 3 - 6 a.m. and 8:30 - 11:30 a.m. EST
Strategic Roundtables
1 - 2:30 p.m. CEST
→ 7 - 8:30 a.m. EST
Genres: Press Conference, World Health Organization - WHO
*The opinions expressed by the hosts and guests in this show are not necessarily the views of Children's Health Defense.