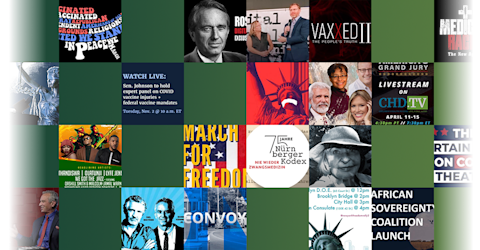 Reclaim California & Take Back Our Liberty
About this event:
Reclaim California & take back our liberty will be one-day event geared towards the blueprint forward for a better California (and world) for us all. We know there is a lot of corruption going on. But what are we going to do about it?
Join us for a solution-focused event where we will have incredible speakers all from different walks of life to help showcase the way forward. We can not sit back and complain any longer without taking massive action. Let's reclaim our health, our schools, our food, our businesses, our voice & our future!
Let's Reclaim CA and take back our liberty! CALIFORNIA!! This is for YOU!!! We have an incredible lineup of speakers. We will have a local, organic lunch (optional). We will have a group of amazing like-minded individuals to connect on a deep level. This event is not just about
"Hey — the world is corrupt. Have ya heard?" Yes!! We've all heard by now!! So the question is… what are we going to DO about it?? And that's where this event comes in! This will be a solution-focused event where we will talk about:
Reclaiming our education with Matt Beaudreau talking about raising dragonslayers in a world where dragons actually exist. Reclaiming our food with Tammi Riedl talking all about why being reliant for a basic need such as food is not an ideal situation right now. And some solutions on how you don't need to. Reclaiming our businesses with Mike Colomb from the PMA Revolution talking to us all about PMAs and what they can do for us. Reclaiming our voice with Joshua Coleman or Olivia Mikostalking all about becoming uncensored in a censored world. Reclaiming our rights with The Freedom Angels, Tara Thornton & Denise Aguilar talking to us about some of the extremely draconian bills we are up against and how to get involved. Reclaiming our health — with Brian Hooker to talk to us all about the mandate madness and the craziness with the C-19 vaccine. Reclaiming our future — with Reinette Senum talking to us all about the 7th generation principle So that we can take back our liberty and become so damn free that our mere existence is a middle finger to the system!
Whose with me?? You won't want to miss this!! A local & organic lunch catered by Flora & Fauna Provisions is optional as well as some delicious elderberry lemonade from Crunchy Cottage.