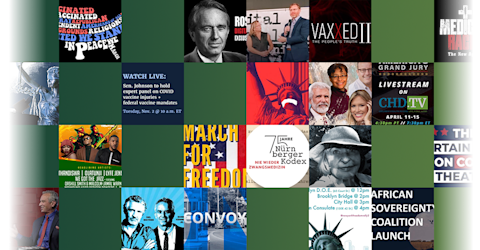 London, England - Worldwide Rally for Freedom
Livestreamed from Hyde Park Speakers Corner - London, England. WE STAND WITH OUR HEALTH CARE WORKERS AND NHS STAFF refusing to take the jab and their colleagues who believe in medical freedom. WE STAND AGAINST: VACCINE PASSPORTS + VACCINE MANDATES. GLOBAL VETERANS ALLIANCE lead our march and will hold a one minute silence at the Cenotaph. CANDLELIT VIGIL after the one minutes silence, we will provide candles to be placed in memory of those who have fallen victim to the vaccine. WE STAND WITH AUSTRIA and countries around the world, bring Austrian Flags and others to show solidarity.
For updates and live location: t.me/londonofficialworldwiderally
*The opinions expressed by the hosts and guests in this show are not necessarily the views of Children's Health Defense.