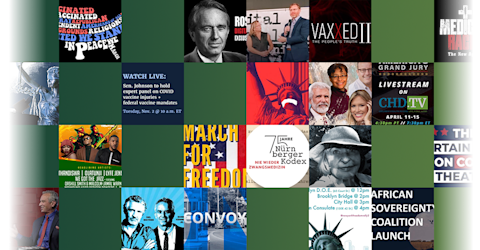 International Press Conference: Democracy Under Threat by WHO's Centralization of Power — International Alliance for Justice and Democracy
Geneva, Switzerland – May 28, the International Alliance for Justice and Democracy hosts a press conference titled 'Democracy at Threat by WHO's [World Health Organization] Centralization of Power' at the Geneva Press Club to address WHO's ambiguous procedures following their 75th World Health Assembly (WHA) meeting.
The press conference aims to bring full transparency to legal matters by a group of independent legal experts and other professionals addressing WHO's ambiguous procedures and plans in conflict with the principles of national and individual sovereignty. This serves as a call to action for national and global decision-makers, legal experts and concerned citizens worldwide.
Read the full Press Release
Experts/Speakers Include:
Philipp Kruse, Attorney – Kruse Law, Switzerland Catherine Austin Fitts – President of Solari, Inc, USA Mary Holland – President of Children's Health Defense, USA Leslie Manookian – President/Founder, Attorney, Health Freedom Defense Fund, USA Helmut P. Krause, Attorney, Germany Dr. Georg Prchlick, Attorney, Austria Shabnam Palesa Mohamed, Afro-Asian Sovereignty Coalition, Africa Dipali Ojha, Attorney, India Diane Protat, Attorney, France John Titus, Attorney, USA
Genres: International, Press Conference
*The opinions expressed by the hosts and guests in this show are not necessarily the views of Children's Health Defense.