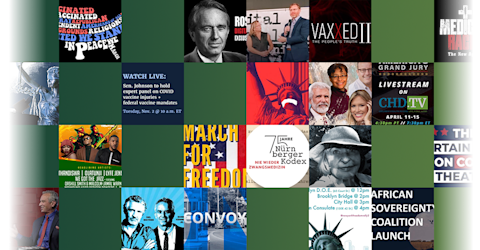 Defeat The Mandates — Los Angeles
Defeat The Mandates Coast To Coast Thankfully some mandates are dropping across the country, but there are still vaccine mandates that persist in schools, colleges, businesses, hospitals, and corporations. Restrictions on doctors who treat COVID, censorship by Big Tech, the unnecessary COVID-19 vaccination of children, silencing of scientific debate, and the extension of the Emergency Powers Act beyond March 1st for the coronavirus pandemic are a few of the main concerns.
In California, an aggressive slate of COVID-19-related bills—mandating vaccines for children and all employees, and allowing 12 to 17-year-olds to get the vaccine without parental consent—remain under consideration by the California state assembly.
Starting at 12:00 noon PT Defeat The Mandates Coast To Coast will hold a day-long rally in the heart of Los Angeles at Grand Park where a wide range of featured guests including prominent doctors, recording artists, actors, journalists and premier thought leaders will give a series of inspiring talks and musical performances.
*The opinions expressed by the hosts and guests in this show are not necessarily the views of Children's Health Defense.